Shopping Cart
Your Cart is Empty
There was an error with PayPal
Click here to try again
Thank you for your business!
You should be receiving an order confirmation from Paypal shortly.
Exit Shopping Cart
| | |
| --- | --- |
| Posted on August 20, 2012 at 10:24 AM | |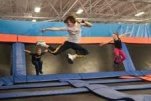 如果不知道躲避球是什么, 请看
这是一个男生女生都可以参加的活动哟。而且我们只会和CYPN自己人玩。保证大家会很嗨。请注意,这个活动最多只能24人参加。所以报名名额有限。请尽早报名!

So you are wondering what 3-D dodgeball is. You know what Dodgeball is right? Still no: http://en.wikipedia.org/wiki/Dodgeball3-D dodgeball is dodgeball played on an indoor trampoline course. To explain it the best, see youtube video: http://www.youtube.com/watch?v=ssxvaBXNy_UThis is an event fit for both guys and girls. You don't need skill at all. Everyone just pick up the ball and throw.
CYPN reserved a private court for this event so all we will only play against each other exclusively! Each side can only have 12 people MAX on it.This means this event has a head count cap! Please join as early as possible to reserve your spot. Otherwise you will be put on the waiting list. I don't think you want to be on the waiting list. It's dull there.

地点/Location:91 Sprague StBoston, MA 02136
http://boston.skyzonesports.com/CONTACTUS.aspx

时间/Time:
我们于下午4点15分在Skyzon Boston的门口集合。 整个活动会持续1个半小时。活动完了可以一起讨论去哪儿吃晚饭。Let's gather at the Skyzone Boston on Saturday, September 8th at 4:15pm. The event takes about 1 and half hours and we can discuss dinner afterwards.

价格/Pricing:
每个名额的票价为$16. 请用paypal链接付钱。当我们收到24个付款后,我们会把付款链接从活动中取下。Each person, the cost is only $16. Please use the Paypal link to pay. We only use payment as the only reservation mechanism. Once we receive 24 payments, the payment link will be taken down
票已经全部售窑!We are all sold out!
注意事项/Note:
If you are under 18, you need to have your parent sign a waiver. The waiver is at: https://skyzoneboston.pfestore.com/waiver/
参加活动请注意自己穿著。请穿适合运动的服装。Please were sports attire. You will get active!
活动场地会有专门的鞋子提供。请一定带或穿一双袜子The trampoline court has their own shoes. So please wear a pair of sox.
Categories: events
/