Shopping Cart
Your Cart is Empty
There was an error with PayPal
Click here to try again
Thank you for your business!
You should be receiving an order confirmation from Paypal shortly.
Exit Shopping Cart
| | |
| --- | --- |
| Posted on September 23, 2014 at 11:12 AM | |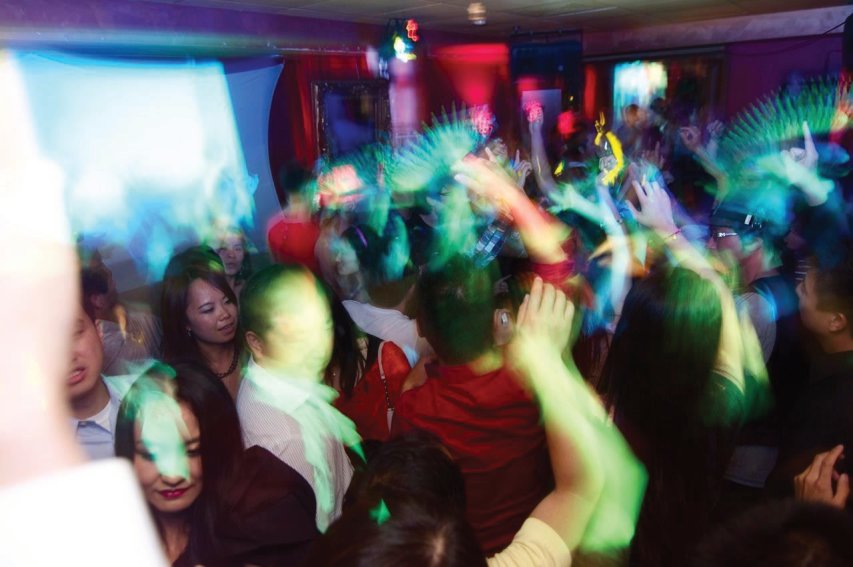 "华人青年协会"(CYPN)联合"波士顿留学生网"邀请大家一同参加我们的2014年度舞会和万圣狂欢!舞会将于10月24日周五在Boston的The Vault Bar举办。2013-2014季度我们经历过登山野营,到划船戏水,还和大家一起欣赏过雪山的奇峻雄伟,难忘BBQ的欢声笑语。上个雪季我们举行了十多次滑雪活动带领大家欣赏雪山的奇峻雄伟, 第一次联合组织了多次百人大巴滑雪, 开展了Career Seminar活动,美味且人气极高的夏日BBQ,组织了三只龙舟队一起同心协力,奋勇拼搏! 为了纪念这精彩的一年,华人青年协会CYPN携手波士顿留学生网将在位于Boston黄金地段上的The Vault Bar 组织年度Party。10月底是秋高气爽,夏意阑珊的季节,也正是室内活动和认识新朋友的的绝佳时机。
这是我们第四年的年度舞会,让我们在10月24号彻底忘记工作的繁忙,学业的烦恼,秀出你最有特色的衣服和最帅的舞姿吧。
购票信息:
活动将于9点30开始.

CYPN and BostonStudents would like to invite you to celebrate our fourth anniversary with a special Halloween party. A party that's exclusive to our members with the legendary DJ Tao performing live! Enjoy a fantastic evening of Asian pop music and American top 100 with your friends!

Time: 
10月24日, Friday. 9:30PM-2AM

地点: 
The Vault(地址在波士顿市中心地带)
105 Water St
Boston, MA

价格: $15 Early Bird, $20 Regular
由于The Vault有容量上限,所以票数有限.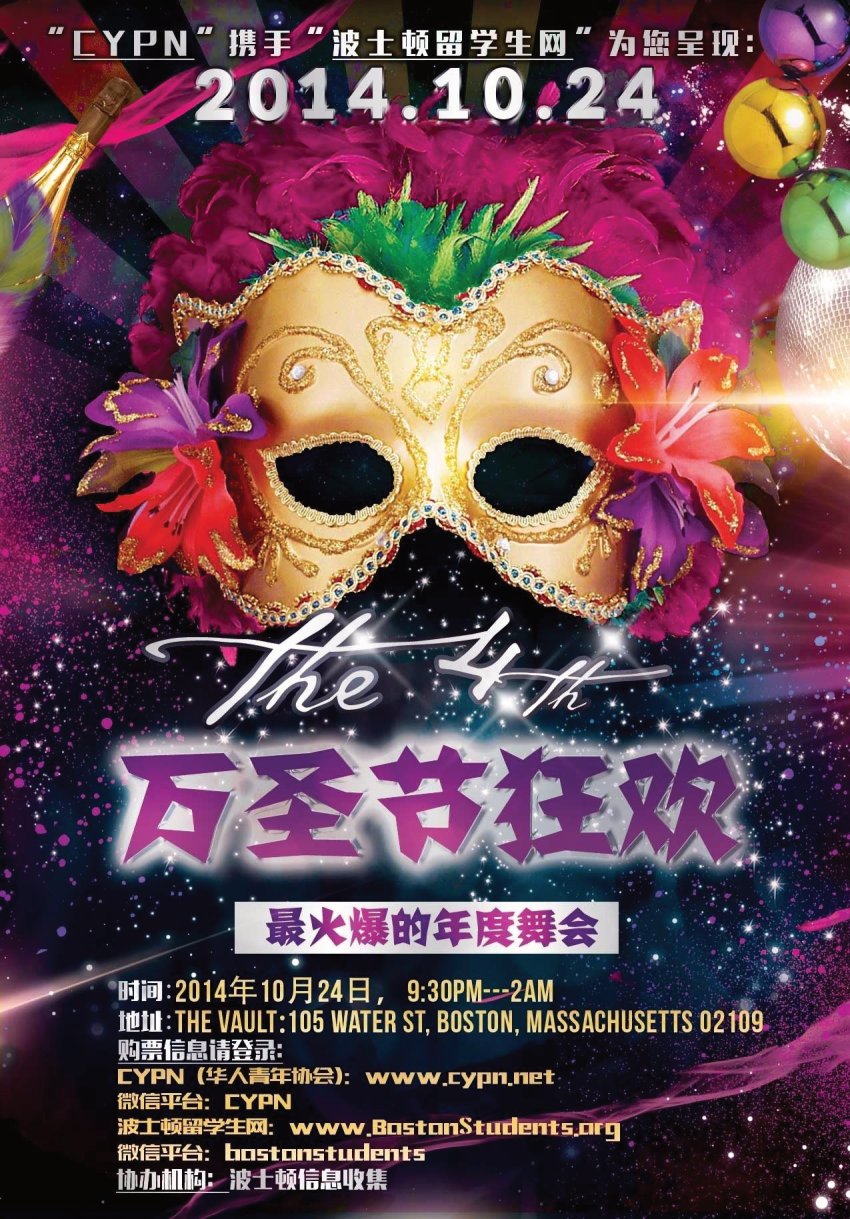 本次活动仅对21岁以上人士开放。CYPN不对活动期间产生的任何事故负责任。This is a 21+ event only.
服装: 男士请穿皮鞋和衬衣. 如穿牛仔裤请不要有破洞,T-shirt/运动服/运动鞋/球鞋/休闲鞋 会被禁止入内.
Dressing code: No athletic wear, no sneakers, no flannel, no white t-shirt, no baseball caps, no ripped or baggy jeans, no chains.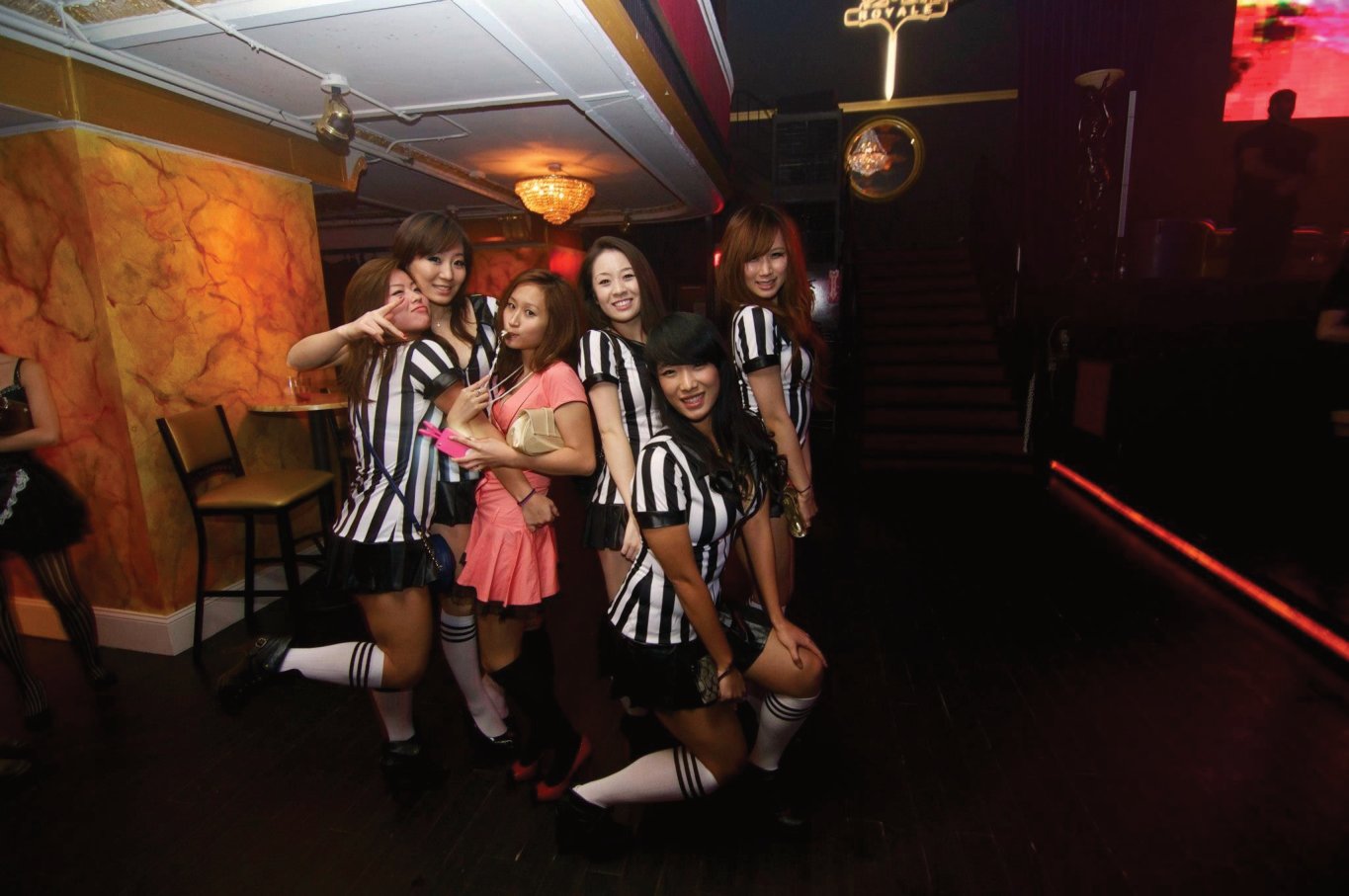 退票: 如果因为任何原因你不能来参加本次活动,在10月17日以前退一半票价,10月17号以后恕不接收退票。

本次活动仅对21岁以上人士开放。CYPN和波士顿留学生网不对活动期间产生的任何事故负责任。This is a 21+ event only.




服装: 男士请穿皮鞋和衬衣. 如穿牛仔裤请不要有破洞,T-shirt/运动服/运动鞋/球鞋/休闲鞋 会被禁止入内.

Dressing code: No athletic wear, no sneakers, no flannel, no white t-shirt, no baseball caps, no ripped or baggy jeans, no chains.







----------------------

有关华人青年协会 CYPN




华人青年协会 Chinese Young Professionals Networking (CYPN)在2011年注册为麻省认证的非盈利性机构,旨在建立一个交流平台来帮助大波士顿地区华人学生以及工作的年轻白领。我们定期举办大型户外活动帮助同学扩展网络人脉,以及给准备毕业的学生提供工作建议。







有关波士顿留学生网




波士顿留学生网由美国留学服务中心主办,面向大波士顿地区留学生的综合性信息服务平台。为留学人员提供赴美前的远程订房与机票订购,抵美后的接机、波士顿租房、买房、行李快递、健康保险、法律咨询,波士顿地区活动发布,同时提供毕业后的实习推荐、工作及移民签证办理。







Categories: events

0

/