Shopping Cart
Your Cart is Empty
There was an error with PayPal
Click here to try again
Thank you for your business!
You should be receiving an order confirmation from Paypal shortly.
Exit Shopping Cart
| | |
| --- | --- |
| Posted on February 12, 2013 at 11:32 AM | |
2013年大波士頓地區華人學生學者春節元宵聯歡晚會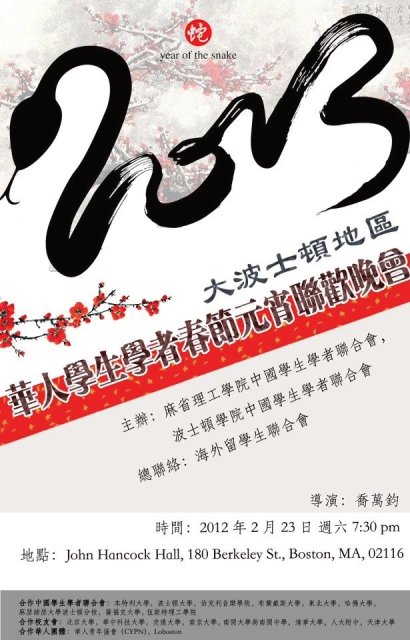 導演:喬萬鈞
時間:2013年2月23日 週六 7:30pm
地點:John Hancock Hall, 180 Berkeley St., Boston, MA
在這臘盡春歸,納福迎祥之際,大波士頓地區華人學生學者將聯合為您奉上一臺精彩絕倫的大型春節元宵聯歡晚會。這裏您不僅可以聆聽韻雅天賴、聲入雲霽的歌曲獻唱,更有翩若驚鴻、婉若遊龍的舞蹈表演。精彩紛呈,不容錯過!大波士頓地區華 人學生學者聯合誠摯邀請您與我們一起共度佳節,笙歌曼舞辭龍歲,爆竹鑼鼓接蛇年!

主辦:麻省理工學院中國學生學者聯合會,波士頓學院中國學生學者聯合會總聯絡:海外留學生聯合會

合作中國學生學者聯合會: 本特利大學, 波士頓大學, 布蘭戴斯大學, 東北大學, 哈佛大學, 哈佛大學醫學院, 麻瑟諸瑟大學波士頓分校,  薩福克大學, 伍斯特理工學院
合作校友會:北京大學,華中科技大學,交通大學,南京大學,南開大學與南開中學,清華大學,人大附中,人民大學,天津大學
合作華人團體:華人青年協會(CYPN),LobsBoston


CYPN 華人青年協會承辦本次聯合春晚的官方Facebook Event:
MapQuest Terms and Conditions
Maps/Directions are informational only. User assumes all risk of use. MapQuest, Vistaprint, and their suppliers make no representations or warranties about content, road conditions, route usability, or speed.
Categories: events
/